In this chapter, you will be delving deeper into online traffic building. This time around you will discover and learn about the ever-so-wonderful search engine optimization or SEO. 
Though you must be wondering; do you really have to apply SEO to your website? Yes, because it makes your website more visible on search engine; greater website visibility means more traffic and more traffic means your website will have bigger opportunities to convert visitors into customers. 
What is a Search Engine?
A search engine is a machine that helps you find the answer to your online queries. It crawls through billions of indexed content with keywords matching your online queries and that content will then appear on the search result page (SERP). The content on the search results page will appear in order from highest to lowest.
What is Search Engine Optimization (SEO)?
So, what is SEO? SEO or search engine optimization refers to optimizing your web content to be more discoverable by search engines like Google. To put it simply, SEO is what makes people able to find your website when they search using relevant keywords. 
And you have to not only know your audience's search intent but also figure out how to deliver your answers in a way search engine crawlers can find and understand. 
However, for that to happen, your website must be ranked high on the search results page. So to achieve that, you will need to optimize your website. And this involves:
on-page content optimization (keywords, titles, meta descriptions)
off-page optimization (back-linking)
technical optimization (URLs, internal links)
The basics of Search Engine Optimization
Ever heard of Maozlow's hierarchy of needs? It's a theory of psychology that prioritises the most fundamental human needs over more advanced needs. Moz comes out with their very own pyramid dubbed "Mozlow's hierarchy of SEO needs".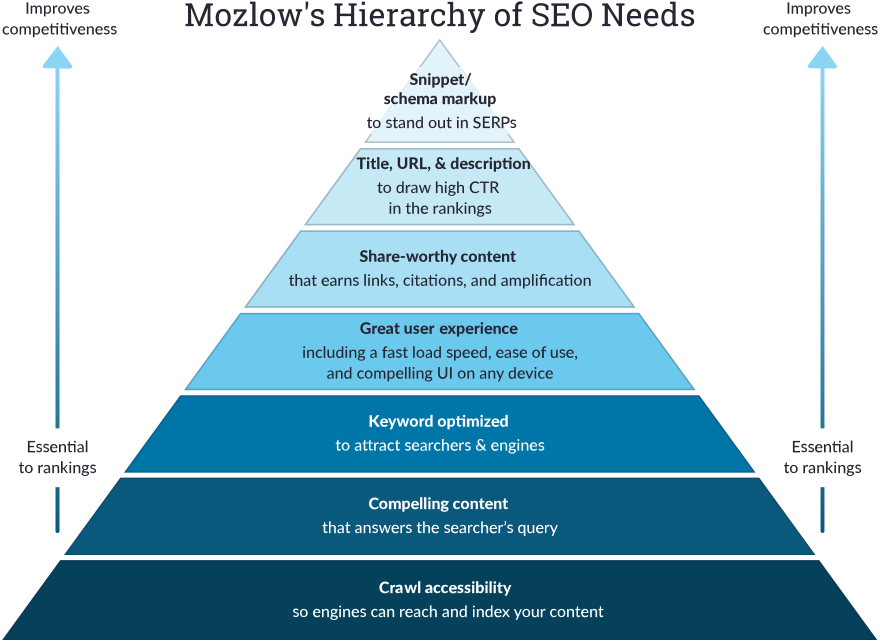 As you can see, the foundation of good SEO begins with ensuring your website is crawlable by Google, and it moves up from there — creating compelling content; ensure websites are keyword optimized; create great user experience; make sure content are share-worthy to earn links; exceptional & click enticing title, URL & description; and lastly to be able to show up as snippet to stand out in SERPs.
It might sound intimidating but it is actually easier than it looks as long as you are following our comprehensive guide below! 
How SEO can improve your website and business?
All businesses require online exposure. Be it to acquire customers or build trust, there are various ways to generate exposure online with the likes of paid advertising, social media, and other online platforms. 
And SEO can improve your business in a few ways:
Help your website earn more traffic, which leads to more customers and sales.

Improves the visibility of your website, making it easier for people to find your website.

Build trust and credibility with the target audience and Google. Yes, Google has trust issues, it seems.

Provides you with a competitive edge over your competitors in the industry at cost-effective. 
In addition, SEO provides organic search results. What is an organic search results? Organic search results is the free listing appear on the search results page after you type a query in it. It will take time, but likely to generate leads and revenue, it also will become your long-term source of traffic and it is free unlike paid advertising. So it means that you save your money but still get good results. 
Also, SEO is one of the marketing channels that can continue to pay dividends over time if done right. Pretty neat right? Well, get this, content with keywords that are successfully ranked on search engines can steadily and continuously generate traffic that eventually shows results such as increased leads, more sales, and customers.
SEO is the thing that will help improve your website and make it relevant to Google. This is because as smart as a search engine is, it needs guidance from webmasters or content creators to help search engines deliver the relevant information to the searchers.
So essentially, SEO is a way and a tool for webmasters and content creators (you) to improve a website so that Google will show it as a top result when people search for relevant keywords. Revenue from organic search traffic is one of the most important sources of income for many businesses, so it's essential to ensure that your website is optimised for the search engines.
What are the factors that impact SEO?
There are over 200 factors that can impact your website SEO. We are not going through all 200. So, we have listed some of the most important factors that can potentially make or break the success of your SEO.
1. Answering questions or queries
Why people search? People search to get answers. So make sure your website or your web pages are able to provide the answer that matches with any queries.
2. The quality of your content. 
Make sure your content is of high-quality, informative, and has relevant keywords. It includes your website's structure; heading structure, meta tags, user friendly URL, and content structure & content quality. 
3. Mobile-friendliness of your website. 
Why is this important? It is because most people nowadays browse through the Internet on their mobile devices most of the time.
4. The amount and quality of the backlinks. 
Make sure to take care and be mindful of your backlinks. What are backlinks? Well, backlinks are links from one website to another. For example, someone else share your article on their website and link back to your website. So the more backlinks you have, the more authoritative your website is. But make sure the backlinks are only from and to a good and well-established website. 
5. Brand mention of your website.
Brand mention is when your website is mentioned by the any online media. So when you encounter a post or something like that, you might want to approach the content creator and ask them (nicely of course) to create a link back to your website. 
6. Optimize for RankBrain. 
What's a RankBrain? RankBrain refers to Google's algorithm core which uses machine learning to determine the most relevant results for search queries. Same as the very first point, know what people are searching for and create the content that can best answer the queries, 
7. Make pages primarily for users, not search engines.
So when you create a page or content on your website, remember that you are creating content or a page for your audiencel, not just for search engines. So, instead of stuffing keywords and smacking any relevant content without having any quality or value for your target audience, you'll need to create quality and informative content or a page that will give a return value to your audience and relevancy to search engines. 
8. Don't deceive your users. Means, no crappy click-baiting.
You might have read somewhere that to attract visitors and increase click-through rate, you can or should employ clickbait titles. 
This actually is a big no-no. Because if the content is not the same as what is stated by the title, visitors will immediately close your website. This will only increase your website bounce rate. And websites or pages with high bounce rates are not good. Google will deem the said websites or pages as not relevant or even not legitimate.
So, no tricking, please. 
9. Avoid tricks intended to improve search engine rankings. 
You should not use dodgy tricks to improve your website ranking on search engines. Because they will backfire, like definitely. Some of the trick to avoid include link cloaking, link farming, keyword stuffing, click baiting, and more. 
10. Think about what makes your website unique, valuable, or engaging.
In SEO, it is important to make your website and its content stand out from competitors. So you have to improve your website's design, and make it more engaging, unique, and stand out. For example, maybe you include an interactive infographic section or tutorial videos to make your website more informative and helpful. 
And don't forget to add a blog page. Not only will it make your website more informative, but the keywords in the blog posts will definitely help Google find your website more relevant.
SEO is complex and ever-changing. Like almost every day or week, there's always something new in SEO. These constant changes and updates are due to Google's algorithm updates. Whenever Google updates its search engine algorithm, it will affect ranking factors for web pages.
But it's okay, there's no need to explode over this because it is pretty much out of your control. The only thing you can and should do is focus on the most important and fundamentals of SEO.This will help your website to adapt to the new changes and updates.
Most important factor: fulfilling User Intent
The key components to successful SEO for any website is that you are able to understand, match and fulfill the user's intent. But what is a user's intent?
User's intent means what people want to find on the Internet when they browse and scour the Internet. So, if you are able to match a user's intent successfully, it will mean that you are able to provide answers or outcomes people look at when they search online. 
What you need to do is figure out what are the most searched keywords that are relevant to your business, the number of searches done using those keywords, and the format of the results that is generally desired by people. 
This is where SEO comes in; it will quickly provide people with answers they are looking for in different content formats; videos, images, or articles.
So, you need to do some research in order to understand which keywords are relevant, keywords with the best potential, and keywords that your competitors use in their top-ranking content. Once you nailed it all down, the next step is to outrank your competitors by providing more value to the target audience. 
That is why you need to have not just high-quality and informative content but also optimised with relevant keywords. In this way, you will be able to rank and build trust, and credibility with your audience.
Start with Keyword Research
Keyword research is perhaps one of the most important and the very first step in a successful SEO approach because the right and relevant keywords will be able to lead traffic to your website. So it is imperative to get the keywords that are right and relevant to your website.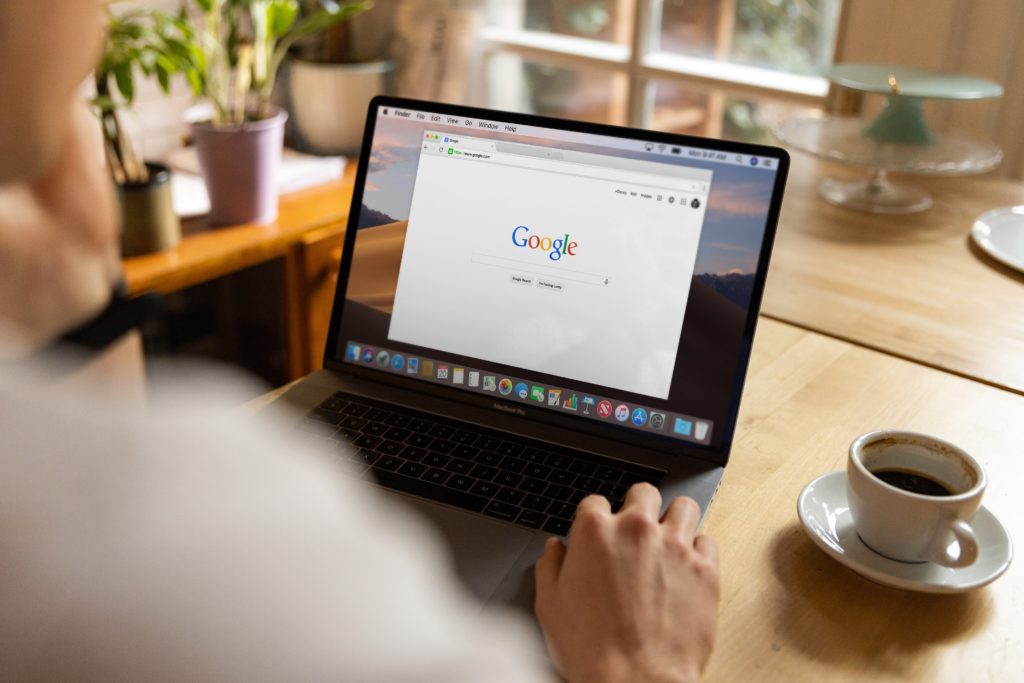 So what is Keyword Research?
Since you've started reading this comprehensive guide and after jumping into the content marketing scene, you must have heard people shouting the phrase 'keyword research' everywhere, right?
But just what the heck is it? 
Okay, let us lay it out for you in simple terms. Keyword research refers to the act and process of finding words and phrases that people use in search engines, and relevant to your business website and its content. 
This can be done using tools like Google Keyword Planner, Ahrefs, SEMrush, Ubersuggest and many more. You will learn about these tools in the Keyword Research Tools section.
Why is it important to SEO and your business?
It is crucial for SEO and your business because without doing keyword research, you won't be able to find out which keywords are the most relevant, and effective to be used. And it impacts all SEO related tasks; content topics and promotion, on-page SEO, off-page SEO, and visibility on the search result page. 
It also will help you understand the target audience better. You will be able to gain insight into what are the phrases and keywords your target audience frequently uses and what they search for. 
Simply put, keyword research is like a compass that helps your prospects find their way to your website. To help you see whether the published content and keywords are making progress. 
How to find keyword ideas
Okay, now that you have learned the importance of keyword research, now is the time to get down and dirty doing it yourself.
So, when doing keyword research you will want to ask yourself; "What are the topics people usually search for online related to my business/services?" 
Then, you can start listing down the topics. Bear in mind that the topics are not keywords yet! They are sort of pointers for you on what keywords to search for. 
Though just where should you look for keyword ideas? Don't worry, we have it listed down here for you:
1. Wikipedia.
Yup, what better place to start looking for keywords than a site full of curated articles compiled by the industry experts. It is a goldmine for keywords.
So how and where do you start? Just head over to the search bar and type in any general keyword related to your business. 
Then, it will lead to the main topic page, and on that page, there's a "contents" section. In the "contents" section there's a list of subtopics containing a list of keywords. So, there! Now you have keyword ideas to work with. 
You can use some of these as keywords for your content topic and as SEO optimization for your content. So whenever someone looks up, let's say; local florist – your content about local florist services will appear on the search results page.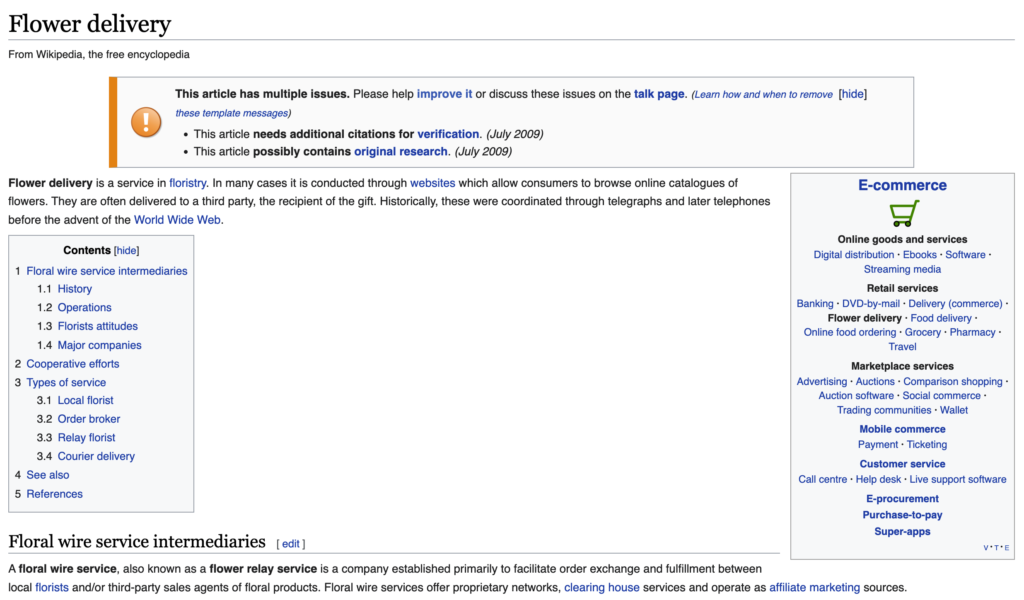 2. Related Searches
Another fun way to look for keyword ideas is using searches related to the section at the bottom of Google's search results page. 
Let's say you type in "flower delivery" and search. The search results page will pop and then just scroll down to the bottom of the page. There you will find what other phrases and keywords people use to search about flowers on Google. You can add those to your keyword ideas list. 
Oh, and the suggested keywords are direct from Google. So, basically, Google is saying "Hey, here are some super relevant and famous keywords for you."
Also, you can click on the Search Related, it will then provide you with a list of new frequently used keywords.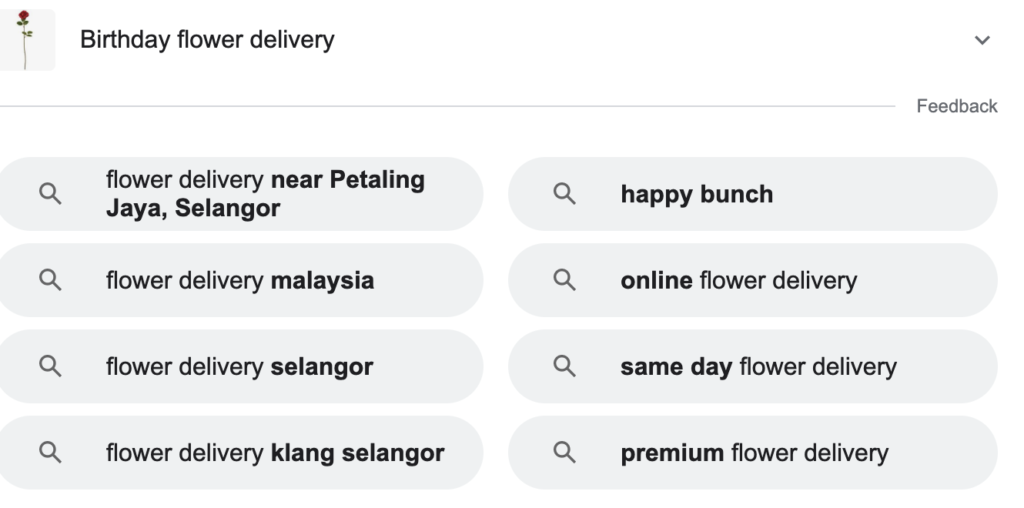 3. Google Suggest
Next method is using Google Suggest. Yeap, direct from Google too! So what you need to do is just type each topic into Google Search Bar.
Then, see what Google suggests to you. And now you have a list of great keywords to choose from. 
Why are they great? Because the results from Google Suggest based on what people frequently use when they search on Google.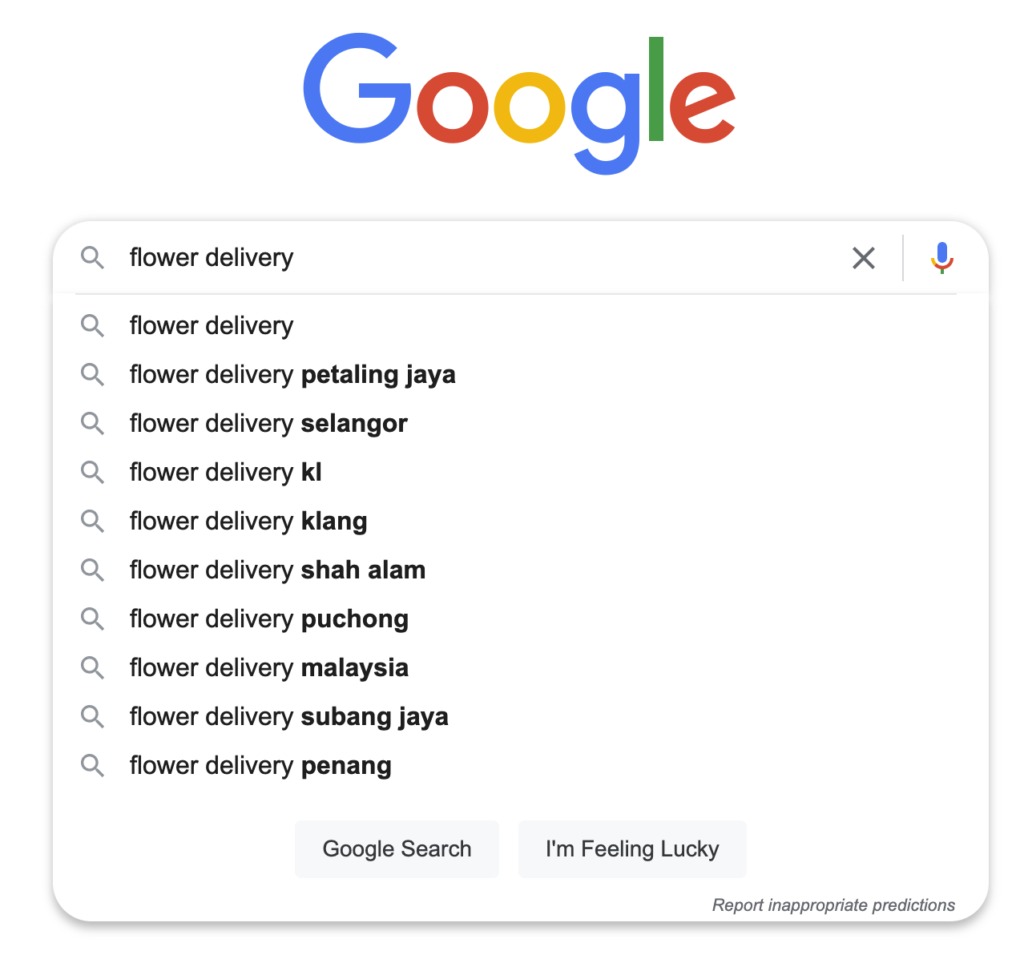 4. Forums
And there's forums. Yes, another information rabbit hole. So be careful not to dive too deep. 
Anyways, since there bajillion of forums on the Internet, the best to use find keywords related your business in forums is by typing like this in Google search bar:
"Keyword + forums"
You will be presented with a few forums on the search result page. After that, you just pick a forum and go through it. For example, by searching for `flower delivery lowyat`, you will see a search results with recommendations of topics within lowyat forum. Simply click on the `more results from forum.lowyat.net` and you will be presented with a series of discussed topics within the forum itself. 

Keyword Research Tools
Phew, kind of a lot isn't it? Bet your forehead sweating bullets from just reading. Take your time to read it and digest it first because we're going to jump into one of the key topics — keyword research tools. 
A keyword research tool is important as is can not only help you figure out how to prioritise the keywords by looking at search volume, it can also help you to expand your keyword selections. 
Here are some of the tools that you need to include in your SEO game plan. 
1. Google Keyword Planner
Google keyword planner is one of the most reliable tool for keyword information and research.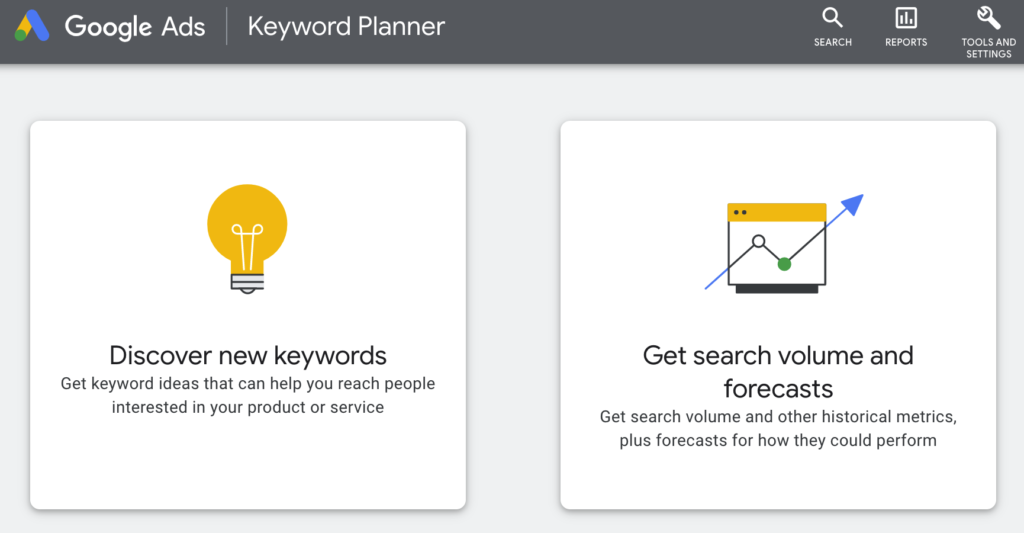 This is because the data you obtain is directly sourced from Google. So basically, Google is saying "trust me, bro." In other words, they are accurate. 
There are two things that you can achieve with Keyword Planner — discovering new keywords and getting search volume for a list of keywords.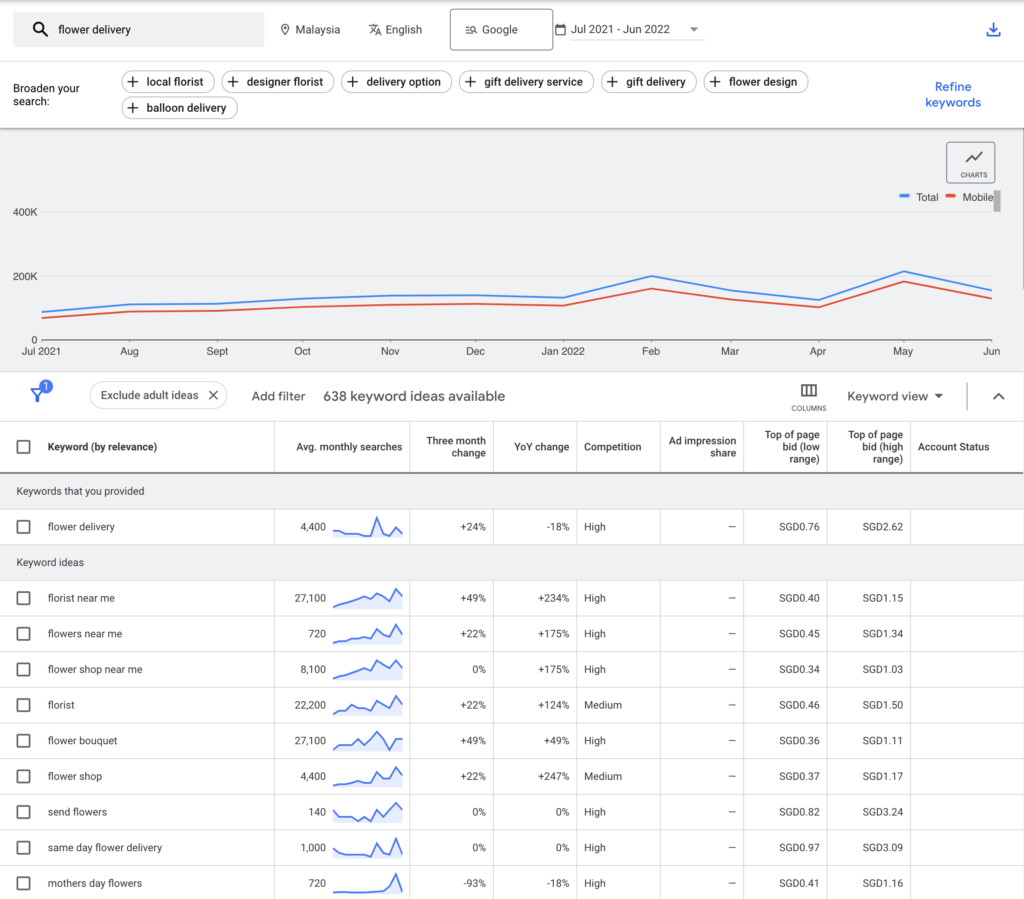 2. Semrush
You have to invest a little if you want to have the best. I'm talking about Semrush. Semrush is one of the best keyword research tool currently available. It saves your time, like BIG TIME.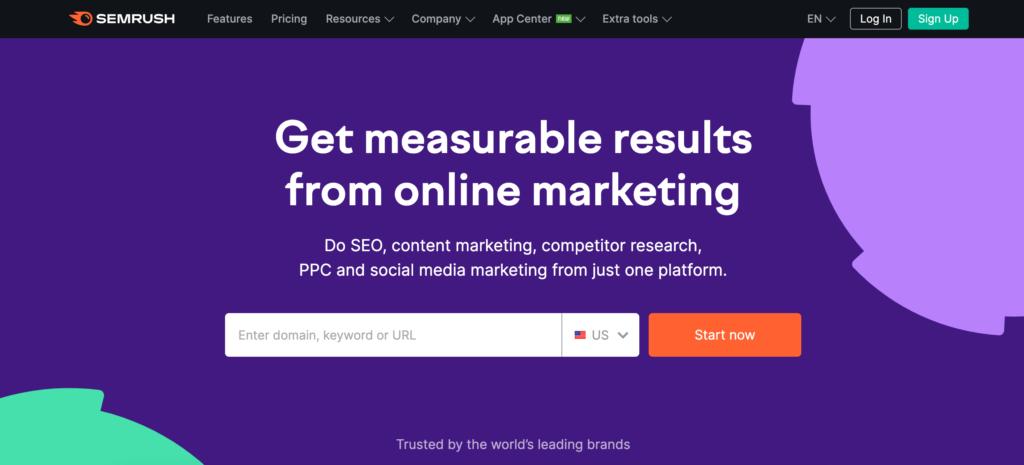 Semrush can help you find different keyword variations associated with a particular root word, helping you to better understand how people actually search online. This takes the guess out and helps you identify user behavior much faster. On top of that, you can also do competitive research to know what your competitors are up to.
Neat, right?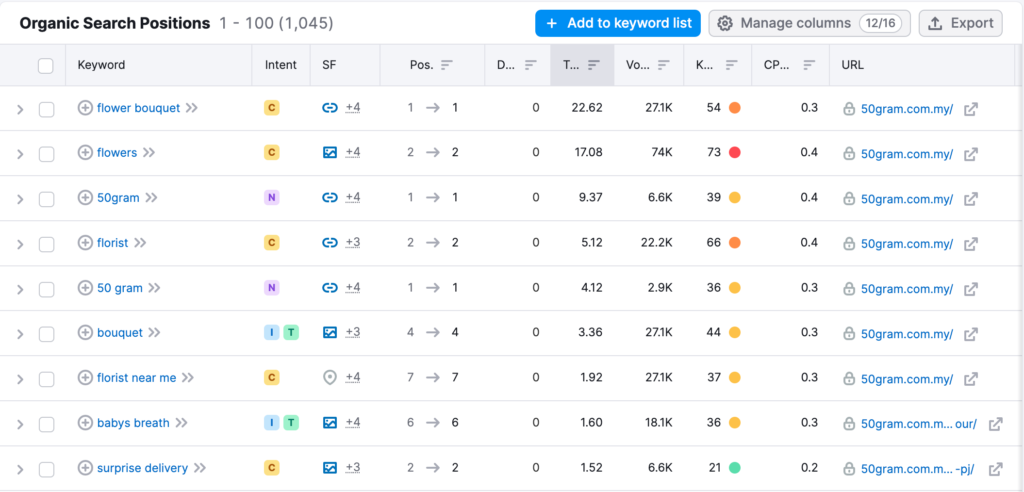 3. Ubersuggest
Next one is Ubersuggest. Ubersuggest is a free SEO tool that specializes in generating new keyword ideas. Originally founded as a tool that scraped Google Suggest terms, Ubersuggest was recently acquired by entrepreneur Neil Patel, who has since expanded the feature set significantly.

From generating keyword ideas generate to content ideas, it can not only help your SEO but also your Content Marketing!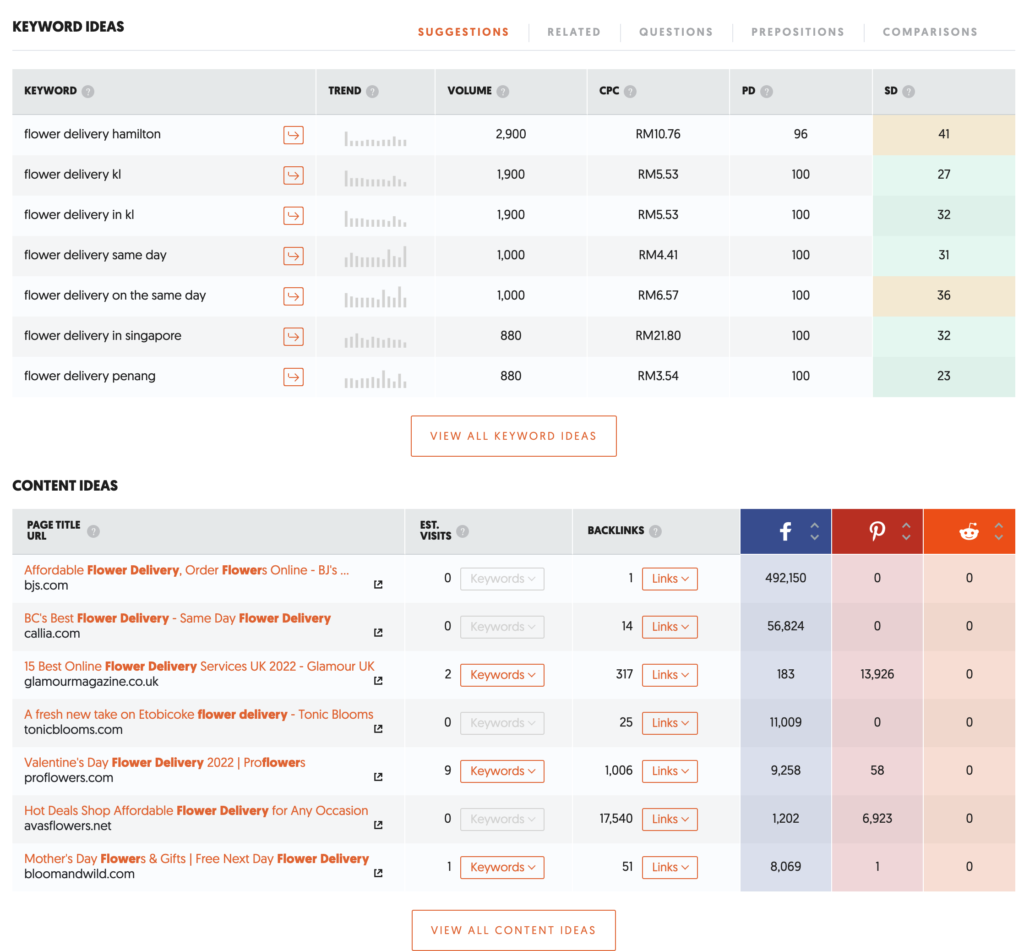 4. Ahrefs
Ahrefs is famous for having a very exhaustive web index where it updates its catalog of backlinks every 15 minutes and is able to process up to 8 billion pages per day.
But we're not here to talk about Ahrefs' backlink index. Instead, we're here to discuss one of its many free SEO tools, specifically a keyword tool called Keyword Generator.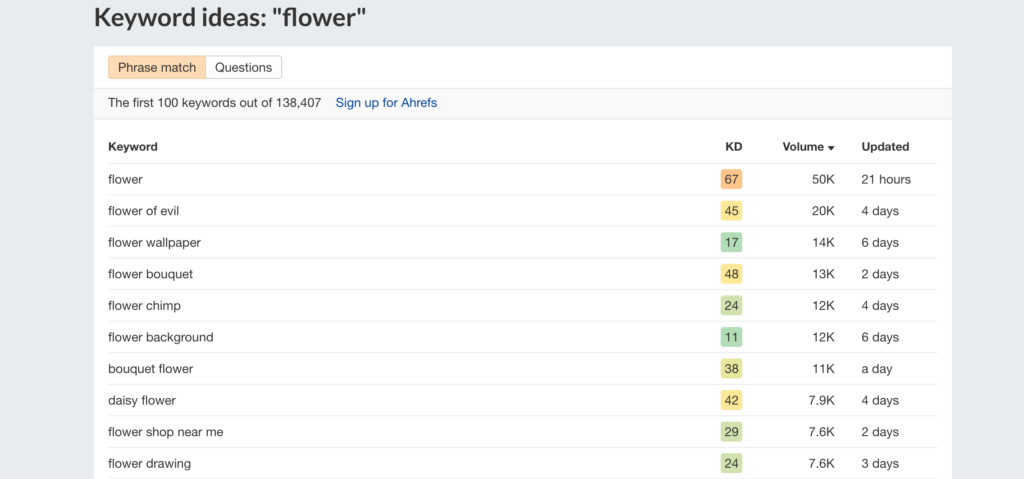 5. Keyword Surfer
Keyword Surfer, a Google Chrome extension from Surfer SEO, is separate from the full SEO suite and offers a limited version of the platform for free.
Once you download and enable the extension, head to Google and search for your keyword the same way you'd do a normal Google search—you'll see estimated search volume and CPC data populate in the search bar as you type. Hit enter to see the same info, plus the number of exact match keywords on the page for each SERP listing.
Related keywords and visualizations of the SERP data are on the right-hand side. Also on the right, you can click to generate an article outline using the Free AI Article Outline Generator. You'll see a list of all the keywords you should include in your content, plus a suggested heading hierarchy. You can even share the outline with a simple link.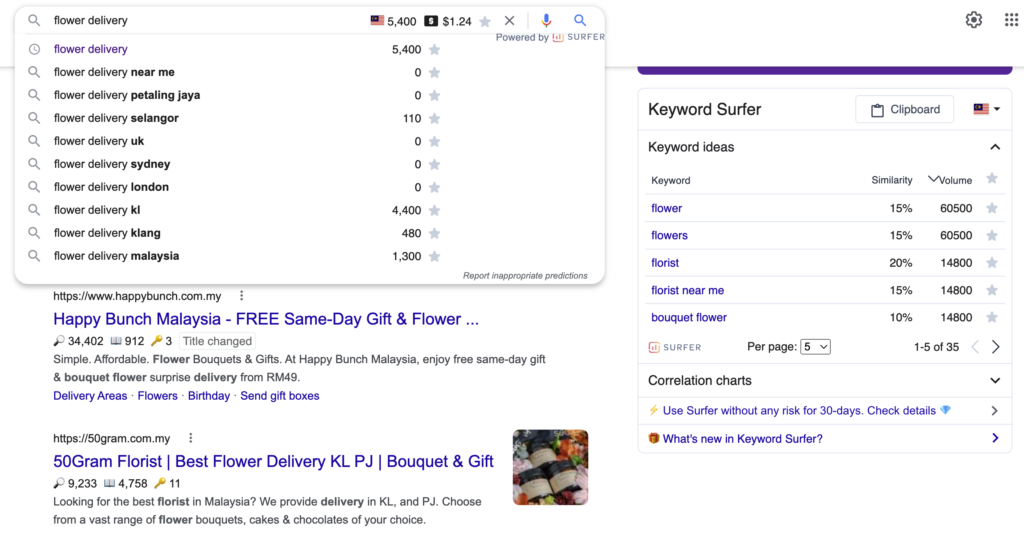 How to choose keywords
So by this point, you probably already have a well-built keyword idea list. But how to choose? Well, you're going to learn about that in this section. 
There are no tools that can help you choose the right keywords, but there are a few indicators that you use to help pick the right keywords. 
Search Volume
You can check a keyword's search volume, this usually will give you an idea of how popular is the keyword and whether it is worth capturing it in your website.
But what's the good volume though? 
Well, it depends on the industry. 

So, you have to figure out what is the high and low volume in the industry you're in. For example, keywords such as "flower delivery" or "florist near me" are getting high thousands of search volume and that's because these are considered as consumer keywords.

While "web design company" gets <1000 searches monthly. This does not mean it is a not a good keyword as it is a business keywords which makes much sense. 
Once you have identified the high and low volume of your industry, the next step is to choose the most "normal' keywords in your industry.
Click-Through Rate
Must be wondering how the hell are you going to measure the click-through rates? Remember those keyword research tools, yeah? Well, Google Keyword Planner has a feature that estimates click-through rates for keywords. 

Although this is meant to estimate the Click Through of a paid ad, it can very well give you some idea how likely someone will click on the keyword that people are searching for. In other words, for the keyword `flower delivery`, there's a `3.5% chance` of people clicking on it if they see it at the top of SERP.
Cost Per Click (CPC)
CPC means every click made through a particular keyword ends up with a sale or a purchase. So if you are looking and hoping for visitors to click and spend from your chosen keywords, then you need to pay attention to this parameter when choosing keywords. 
But if you have zero commercial intent, then you don't have to chase keywords with good CPC. 
Okay, for example, people are willing to pay RM6 to RM22 for the keyword `flower delivery` for every single click.

So, if you have commercial intent, look for keywords with high CPC.
Understanding synonyms and related keywords
Okay, now you know how to optimise your website and its content using keywords. But do you know that you can expand it further? 
Expand how? Well, you can optimise your website and its content using synonyms and related keywords.
For example, you're ranking a page using the keyword "flowers." Then in a sentence, you add another keyword similar to it: 
"A flower, sometimes known as a blossom or a bloom, is the reproductive part found in flowering plants."
The words "blossom and bloom" are the synonyms and variations for the main keyword "flowers". So you can also write the title something like this "How To Make Orchids Bloom" as a variation for the main keyword. 
Then, you sprinkled a few other variations of that keyword in your content or website. Why do this? This will help your website or content to rank faster on the search results page and won't be considered keyword stuffing since they are variations not repetitions of the same keyword. 
Next, On-Page SEO Optimization
Now, that you have the keywords all set up, it is time to perform on-page SEO optimization on your website.
What is on-page SEO optimization?
On-page SEO optimization means you have to optimise every element in your website for SEO, including building internal links. For starters, you have to make sure that meta titles and descriptions for every page on your website are all set up with the dedicated keywords, including image optimisation. 
1. Keywords
Keywords are the thing that helps increase your page or website visibility on search results pages. So be sure to insert your keywords in your content title, subtitle and body. Though mindful, so that you won't be keyword stuffing. 
For example, a content with 500 words should have the target keyword repeated 5 times at most to achieve a certain keyword density. And the target keyword should be mentioned in different paragraphs and lines, as well as represented with synonyms. This should avoid you from keyword stuffing. 
2. SEO Writing
When you are SEO writing, it means you are writing content that is optimised to convert human visitors and to increase visibility in search engines. Meaning, you have to find a middle for your content, so that it is not only informative and suitable for human visitors but also optimised for search engines. 
3. Title Tags
Title tags are the blue texts you see in the search results page.

So it is imperative that you include your target keywords to help increase visibility and relevance of your content page. In other words, it helps build context and relevance. 
4. Meta Description 
Though most SEO veterans agree that meta descriptions do not contribute much to a website's SEO, it still does offer two great benefits.
It helps Google understand what your website is all about and its legitimacy (like we said, Google has trust issues). 
Improve click through rate for your website. When people search for something, they need some guidance to understand what the page is about. If the description is gibberish, then it is likely people won't click. Simply put, it helps people understand if the website page has the information they are looking for. 

5. Image Optimisation
Image optimisation is where you insert relevant keywords into the image. So that when people search for something on the Internet they will not only find the written content, but also visual content. 
So how to optimise images?
Insert SEO-friendly alt tags (your keywords)
Choose the suitable size and format to ensure fast loading
Customise image title from IMG_089 to flowers on a table etc. 
6. Internal Link Building
And lastly, don't forget to build internal between pages or content on your website. This helps drive your target audience to those pages or content. 
How it works is, your homepage should link to your most important subpages and your subpages should link back to homepage and also cross linking to pages that are relevant.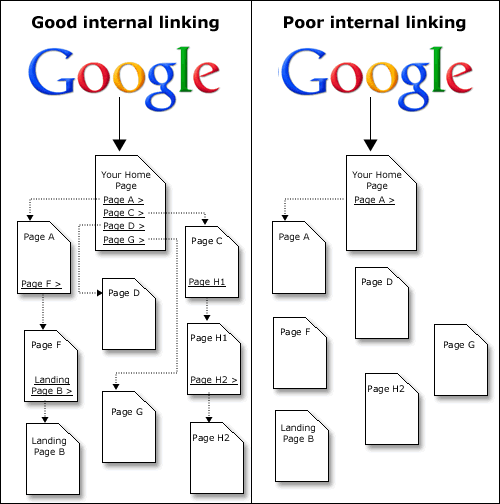 These are the best practices for on-page SEO optimization and what on-page SEO optimization means. Do this, and your website will be on its way to ranking on the first page in the search results page. 
Finally, Off-Page SEO Optimization
Then we have the off-page optimization. Off-page optimization refers to activities done off-website to increase search engine rankings. Some of the common and well-known off-page optimizations are backlinks building, branded searches, and social media engagement and sharing.
In backlink building, to lead people to the mentioned website, you need to use anchor text. But what is an anchor text? 
Anchor what now?
Anchor text is a text embedded with a link that moves you from one Internet destination to another. 
And there are different types of anchor text:
1. Generic Anchor Text
Your straight forward CTA that can be found all over your websites; click here, download now, etc. 
2. Branded Anchor Text
Branded anchor text is a type of anchor text that mentions the brand in it. 
3. Exact Match Anchor Text
This type of anchor text includes the precise keywords of the page that you're linking to. 
4. Naked Anchor Text
Naked anchor text means you just plastered the exact link to the page you're linking somewhere on the website or in an article. 
Avoid bad Link Building practices
No doubt off-page optimization is a key component to winning in SEO but don't try to game it but rather try to approach it in the most genuine and natural way possible. Here are some of the link building practices to avoid:
1. Buying links
You should not do this because these links might end up linking to the "bad neighbourhood" of the Internet. If Google detects you have multiple links leading to the said area, well not only it'll be hard for your website to rank, but might have the possibility of getting your website flagged. 
2. Choosing Domain Authority over relevancy
Domain authority (DA) is a metric that determines the how authoritative the website is in the world of internet.  It might be tempting to get a lot of links from high DA websites but without relevancy, Google will find it hard to relate you to the links that you have built.
3. Not link worthy content
So, instead of creating tons and tons of not informative and read worthy content, you should create content that is high-quality, informative and worthy to read. This will net you backlinks, like a decent amount of it.
Off-page SEO optimization is important because it helps to build your website legitimacy and relevancy. Because Google will size up a website using off-site signals to see if your website is legit and safe. 
This means off-page SEO optimization is important if you want your to be indexed, discovered, and ranked. 
Improve your E-A-T
No, we are not asking you to stuff yourself with more food. E-A-T is an acronym and it stands for Expertise, Authoritativeness, and Trustworthiness. 
E-A-T also plays an important ranking factor in SEO. It builds trust and legitimacy for your website. But how can you improve it? Well, you can improve your website E-A-T using links and mentions. 
Does it have to be a link? Can't it just be a one-off mention? Yes, it can be only a one-off mention without any link leading back to your website. But unless the mentioned media is well-known and a powerhouse, it is likely both Google and people not going to find and discover your website. 
But, if the mention has a link, then not only Google will be able to track the amount of traffic from that link but people will also have an easier time finding your website. So make sure to reach out to as many media and platforms as possible in order to improve your website E-A-T. 
Time to put this knowledge into practice
Well, you have reached the end of this chapter. Learn quite a bit about SEO, didn't you? It's probably a lot to digest all at one time. But it's okay, take your time to digest this knowledge. Once you do, it is time to apply it to practice. 
It will take some time to see results, but if you follow these tips and keep at it, you will be able to get the results you want eventually. However, this is not all there is to know about SEO. There is a lot more to it and every day there's always something new pop up. But make sure to sift through the information, else you might end up practising crappy SEO. 
So, stay frosty!