What is PPC Advertising?
Pay-per-click (or PPC) is a form of advertising that can get your website to appear on Google's search engine results page (SERP) or any other search engine as an ad when someone types in keywords or phrases that are associated with your website. You only pay a fee when someone clicks on your ads. In other words, you will be buying visits instead of earning them organically.
Pay-per-click advertising is most common in SERP, like Google or Bing, but is also used on social channels, like Facebook, LinkedIn, Twitter, or Instagram.
Pay-per-click ads are the results that appear on top and to the right of organic search results. Here's an example of how searches for "baby gift" look like with PPC ads:
Why Should You Invest in PPC Advertising?
If you are still feeling sceptical about PPC advertising effectiveness, the proof is in the pudding. The numbers provided by Statista data show that out of all online marketing tools, PPC ranks highly, and 20% claimed that it provided them with the highest ROI.
Another claim was made by Wolfgang Digital, who stated that paid advertising surpassed organic search engine traffic as the main revenue source in digital marketing.
Here's another fact with solid numbers for you; for retail businesses, PPC provided 36% of revenue and for online-only businesses, PPC provided as much as 46%.
Besides these big numbers, PPC advertising also comes with a few beneficial perks for your business:
1. Only Pay For The Visits You Receive
Unlike other advertising channels and platforms where you have to pay for ad placement without having any guarantee that you will receive results, PPC advertising only makes you pay for the website visits.
And PPC ads typically only appear to searchers who are interested in your product or business niche. So they will be more likely to click on your ads.
2. Instant Results
Other marketing strategies like SEO and content marketing, do provide good results but it can take a while for you to see the results. But with PPC, you get to see the results almost instantly if your ad campaigns are put together by an experienced and expert marketer. In addition, you can track the results of your PPC campaigns almost instantly too.
3. Provide Easy Ad Analysis
Another perk of using PPC advertising is that you can easily analyse your ad campaign's performance in real-time. So, this way you can easily track and measure the ROI and success rate of your ad campaigns easily. You will also get to check out stats such as impressions, clicks, conversions, and demographics of people who click on your ads.
4. Turn Your Ads Into Attention Seekers
With all the ad campaigns and content from more established brands and businesses, it can be difficult at times to make your ads and content noticeable. But with PPC advertising, make sure that your potential customers see your ads when they search for terms that are relevant to your brand and business, even if your organic ranking is not high enough.
PPC advertising turns your ads into persistent attention seekers to boost your website traffic and convert visitors into loyal customers.
5. PPC Able to Play Nice With Other Marketing Strategies and Channels
The great thing about PPC advertising is that you can use it along with other marketing strategies such as SEO (search engine optimization), and content marketing. The same goes for marketing channels; integrating paid ads across search engines and social media not only reduces the cost per acquisition but also converts more customers.
What is Google Ads
Google Ads is a paid online advertising platform that employs pay-per-click (PPC), where you only pay when there are clicks on your ads. Google Ads provides an effective way to drive traffic to your website by advertising ads to interested audiences on both mobile and desktop. This will result in boosted traffic, which in turn increases in-store visits, purchases, subscriptions, or sign-ups.
Simply put, Google Ads is paid online advertising to boost and drive traffic to your website via paid ad campaigns (which you only pay when there are actions taken on your ads).
How Do Google Ads Work?
Now that you are clear on what Google Ads is, we'll be taking a look at how Google Ads work so that you can use them for brand and business ad campaigns.
Okay, so, Google Ads works by targeting a specific keyword on Google and placing bids on the keyword, to compete with others who are also targeting the same keyword.
Don't worry, you won't go broke when placing the bids because you can set the maximum or the maximum amount you are willing to pay. For example, if you set the maximum as $4, and if Google determines the cost per click is $2, you will get an ad placement. However, if it exceeded $4, you will not get an ad placement.
And let's say that you set a maximum daily cost, you will not spend more than the set maximum daily cost and you will be able to get a better idea of how much budget you should allocate for your ad campaigns.
In addition to that, you also have three options for Google Ads bids:
Cost Per Click (CPC): An option where you only pay when a user clicks on your ad.
Cost Per Mille (CPM): Only pay once your ads have 1000 impressions.
Cost Per Engagement (CPE): Only pay when there's an interaction on your ads (sign-ups, watching a video, a purchase, etc.)
So, after Google takes the bid amount, it will run an assessment on your ad. This assessment process is called Quality Score.
Types Of Google Ads
Besides having to know where you will need to advertise, you also need to know how; because there are several different types of paid advertising campaigns available. The ad type you choose to use will depend on where you want to reach the audience from.
But this doesn't mean you are limited to using only one type of ad; you can use a combination of ad types for your campaign but you will need to make sure that you are using ad types that match your campaign's goal.
#1 Search Ads
What is a search ad? A search ad is the results you see when searching for something on Google. For example, search for "smartphone 2022" and when the results appear you will see a few results tagged with Ad next to its URL, like the examples in the picture above.
#2 Google Shopping
The next one is the shopping campaign, a more visual way to promote your products and "encourage" the target audience to click and make a purchase.
As you can see from the picture included, a shopping campaign is the cut-to-the-chase type of ad campaign. It shows pictures of your products, their details (model/brand/series), price, and ratings.
You can use the shopping campaign if you intend to both promote and convert users into customers.
#3 Display Ads
Display ads offer three types of ad placement; partner websites, YouTube, and Gmail. If you choose to use display ads, it will mean running ads over websites that opt into Google Display Network.
Google Display Network is a collection of over 200 million sites, apps, and videos. The network reaches over 90% of global Internet users, so when your ads appear in any one of the locations mentioned above, it will greatly increase the number of impressions on your ads.
The benefits of using display ads are; that if you are the website's owner, you will be paid for the clicks and impressions received. But if you are an advertiser, you will enjoy the benefits of getting your content to appear to audiences that are interested in your products or services.
Display ads use images to draw a website's visitor attention from the main content to the ad content.
#4 Partner Website
The display ads utilises Google's various and vast website partners to showcase ads on different websites all over the Internet. So it is kind of like slapping your store and products or services flyers on someone else's store. With permission, of course.
#5 YouTube
Another type of ad placement for display ads is to include your products or services ad as a pre-roll before YouTube videos (yeah, you know those persistent ads before you can watch a video on YouTube)
The pre-roll videos are usually brief but informative, highlighting the features and benefits of your products or services but also encouraging viewers to visit your website for more information or make a purchase.
In addition to this, you can also set your ad as skippable or unskippable. Besides that, if you have a video idea that you want to test out or promote products or services with a full-on video ad, Google provides the option to do so, instead of a short pre-roll video.
Another type of YouTube display ad is the rectangular ad banners that appear on the screen.
You can also utilise the display campaign via email. That's right, you can send out promos to email subscribers too via Google Ads.
#6 Gmail
Yeap, your target audience will receive and see your ad mail in the "Promotion" tab in their Gmail account. Typically, the intent for ad mail is either to encourage your target audience to shop for your products or services again by sending them an ad mail talking promotions or usually to attract new potential customers to sign up or shop on your website or to get leads.
Not only that, but the display campaign also has a flexible style format, which means that you can display the ads in formats such as gifs, videos, or images. Allowing you to get creative in how you present your ads to the target audience.
However, just like you and me, the display campaign is not perfect. The display campaign features come with a few downsides and it can be bad if you're not careful. The downsides are that your ads might appear on websites, apps, or videos that you don't want your brand to be associated with, you know, like those dodgy sites or adult sites. Which can be harmful to brand and business image.
But you can avoid this if you properly target your audience, and keywords, you should be able to avoid this from happening or at least from happening frequently.
#7 App Ad Campaign
App ad campaign promotes and displays your mobile application across Google Search, Google Play, YouTube, Gmail, and within other mobile apps or mobile websites on Google Display Network.
For an app ad campaign, you don't need to design each ad. Instead, Google will take your texts and assets such as photos, and furnish the ad for you.
Google algorithm will then test different asset combinations and use the ones that perform the best.
The Factors That Affect Your Ads Quality
In addition to the factors that affect your ad campaign cost, some factors affect your ad quality. These factors will be evaluated by the Ad Auction System
1. Keywords Relevance
Keyword relevancy is one of the ways to prevent your ads from appearing on dodgy websites and also will prevent you from spending on web traffic that has no interest in your business.
What you need to do is the keywords you target and bid must be closely related or relevant to your business, products, or services. In addition, when choosing the keywords you will want to select the ones that will lead to higher CPC click-through rates, effective cost per click, and increased profits.
You will also need to have a list of tight keywords group and craft proper ad texts, that not only have the keywords but also have relevant context.
2. Landing Page Quality
Your landing page quality also determines the quality of your ad. I mean, would you stick around on a very bland and dodgy landing page? No, right? Google will feel the same too, especially if there aren't many relevant keywords.
So you will need to create a landing page that is proper-looking and persuasive, has relevant keywords and content, with adequately placed call-to-action, and is designed to fulfill specific queries made by searchers.
3. Quality Score
This score will be determined by Google based on the relevancy of your keywords, landing pages, and PPC campaigns.
Quality Score according to Google means: "Quality Score is an estimate of the quality of your ads, keywords, and landing pages. Higher quality ads can lead to lower prices and better ad positions."
What does this mean? It means that the better your ads and keywords quality (as well as landing pages), the better your ad placement position will be and the lower the cost you have to spend for conversion.
Your ad quality will be scored from 1-10. So if you manage to score 10, then you will be able to rank better.
So, simply put, your ad quality score and bid amount will determine your Ad Rank, the position that your ad will appear on the search results page.
This means you can't just slap random stuff into your ad campaigns if you want them to be successful and yield results (leads, conversions). What you need to do is devise ad campaigns using relevant keywords, content, and audience.
4. Creative Direction
The crucial and hardest factor. All those quality checks and preparations will amount to nothing without an enticing ad copy. So, your ad campaigns need to come with an enticing copy too.
The Basics Of Google Ads
To make your Google Ads campaign more effective, you will need to know and understand a few basic objectives. Understanding these objectives, it will ease the decision-making when you are planning ad campaigns in Google Ads.
#1 Sales
Before deciding on what ad types to use, you must first decide on where you want to drive sales or online conversions from. Each campaign style offers you different sales goals, for example, Search campaign goals are to drive sales or online conversions in-app, in an online store, or by phone. While Video campaigns' goals are to drive sales or conversions from the audience that is ready to act. Choosing the right campaigns is the key to increasing sales to your online or offline store.
#2 Leads
Lead generation is one of the basic goals of any online marketing campaign. The best practices for lead-generation in Google Ads are to encourage customers to complete their purchase and offer them the opportunity to sign-up for membership or an account so that you can gather contact details, which will help generate leads.
#3 Website Traffic
The purpose of website traffic is to drive potential customers to your website. To help you track and improve the website traffic driven by your ad campaigns, you can measure them by checking clicks and the click-through rate (CTR) or the most used search terms that trigger your campaign to appear on searchers' search result page.
#4 Product & Brand Consideration
Using Google Ads, you can encourage potential customers to consider your products or services when they are searching for solutions or if their interest falls into the same category as your products or services. So make sure to choose and use relevant keywords for your ad campaigns.
#5 Brand Awareness & Reach
By utilising the Google Display Network, you will have the opportunity to increase brand awareness and connect with customers on thousands of websites from across the globe. So if one of your main objectives is to increase your brand awareness, you can leverage this to significantly increase the brand awareness and connection you received.
#6 App Promotion
If your business recently launched an app and you want to increase the number of downloads and users, you can utilise Google Display Network to advertise and promote your app across different channels.
#7 Local store visits and promotions (Performance Max)
Last August, Google upgraded its Local campaign to Performance Max. Performance Max comes with all the same foundational features but also access to new inventory and automation insights.
If you have a physical store and want to increase the visits receive, you can leverage this campaign. This campaign will promote your physical store location to potential customers who are within the proximity of your physical store on Google Display Network's various channels.
Account Structure
Having multiple ad campaigns going on is a good strategy, however, if they are not grouped and organised into themes you may find it difficult to focus and track your ad campaigns. It is why expert advertisers begin by choosing and deciding on their keyword themes before anything else.
In other words, you will need to structure your ad campaigns.
1. Campaigns and Ad Groups
For Example, the chosen theme is 'Web Design'. After that, it can be grouped into subcategories, called ad groups:
Web Design Services
Local Web Design Agency
Global Web Design Company
And within each subcategory, has themed keyword variations. For example, the subcategory "Local Web Design Agency" contains keyword variations such as:
Local web design agency in Singapore
Local web design agency website development services
Web design agency local
By varying the keywords, the chance for searchers to discover your ad campaigns will be higher.
To provide you with a better understanding and idea of the table, we have included it below.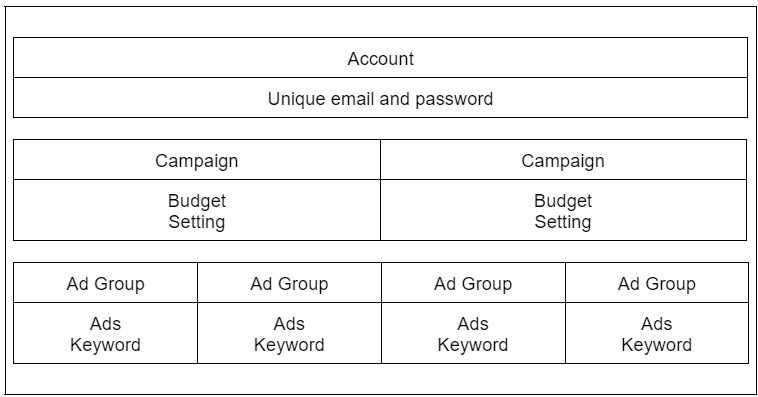 2. Keywords
Keywords are an integral part of online marketing because if you choose the wrong keywords or keywords that don't match both your business and target audience then your ad campaigns are likely to appear in random places and on people that are not interested in your business.
That is every keyword must be assigned a match type; in other words, keywords that define and match the queries that will show your ads.
There are seven types of keyword match types: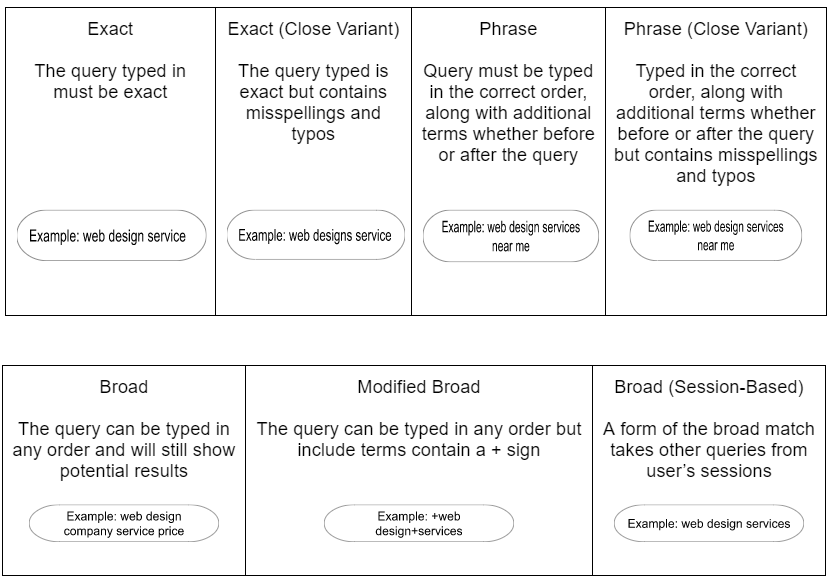 3. Negative Keywords
Besides the positive terms, you can also employ negative keyword terms. In PPC campaigns, negative keywords prevent your ad campaigns from appearing in unrelated search results by including particular keywords and focusing on keywords that matter to your customers.
Here's an example of negative keywords; so you are an optometrist who sells and provide eyeglasses, you'd want to add negative keywords such as "wine glasses" or "drinking glasses" so that your ad won't match to close variants or other variations running on a similar theme.
4. What Are Audiences?
A group of consumers that is likely interested in the solutions that your business, products, or services can provide to them.
And they are segmented in a variety of ways to be used as a targeting strategy in marketing. In simpler terms, audiences can be divided into subgroups demographics, purchase behaviour, and psychographics to deliver more tailored ad campaigns which will have a higher chance of establishing stronger connections and encouragement.
Campaign types
Before launching ad campaigns, it is important to know that there are nine types of campaigns on Google Ads. Each of these types will appear in its respective location:
#1 Search
Text ads on SERP (Search engine result page)
#2 Display
Media-rich ads on websites (usually appear on top of the page, on the sidebars, or near the footer)
#3 Video
Video ads or pre-rolls on YouTube
#4 Shopping
Product ads on Google
#5 App
Mobile-specific app ads that appear on many channels
#6 Local
To drive traffic to a physical location
#7 Smart
Automated and simplified campaign builder. Good for newcomers, and efficient for experts that want to save time
#8 Performance MAx
An AI-driven, and all-one campaign builder
#9 Discovery
Native-looking image ads across Google's feed placements.
Campaign's Setting
Besides structuring and knowing the right ad placements, you will need to know about the campaign's setting as well. This will help you to tailor and adjust your ad campaigns according to your current goals and target audience.
1. Device Setting
For device settings, you should know that laptops/desktops and tablets are considered similar enough by search engines, so the same bid is applied to both platforms. As for mobile devices, they have a bid modifier which you can set at your discretion.
And ads can be shown across all devices, including the ones mentioned above; laptops, desktops, tablets, and mobile devices.
2. Location Targeting
Location targeting in PPC is very detailed; down to the zip code level of detail. So if you want your ad campaigns to appear only to searchers within the vicinity of your store; neighbourhood or region.
As for the bid modifier, you can set up individual bit modifiers for each location that you are targeting.
3. Ad Scheduling
Ad scheduling will help you to set and manage the time when your ads would run. For example, if you are running a physical store that operates under standard business hours, you may run the ads under standard business hours as well. But if your store is online-only, you may schedule the ads to run 24/7.
Simply put, manage and adjust your ads schedule based on your goals and needs.
Like the other settings, ad scheduling also provides bid modifiers for both days and hours. Meaning you set the bid amount according to how many days or which days you want to run your ads and how long they will run.
For example, on weekends you may see and receive more traffic which means will drive more revenue. So you can set the bid modifier 20% higher on weekends.
4. Budget
You can set a daily budget limit for every ad campaign that you are currently running. This will allow you to manage the budget for your ad campaigns.
5. Delivery Method
There are two ad delivery methods that you can use; standard and accelerated.
The standard delivery method shows ads evenly and consistently throughout the day. A good option for advertisers with tight budgets but who still want their ads to show and run throughout the day.
The accelerated method will run your ads until it used up all of the budget set by you. So if you have a big budget and want your ads to persistently appear on every query made by searchers this option is for you.
6. Ad Delivery
Google provides you with two options for ad delivery;
The optimised option based on ads is expected to produce higher click volumes. While the rotate indefinitely option ads are delivered more evenly into the ad auction, however, they won't be optimised for any kind of goals such as clicks or conversions
How To Improve Your PPC Performance
But let's not stop yet, because there are ways for you to further improve your PPC performance. These tips will significantly improve the performance of your ad campaigns.
#1 Determine Your Goals
Before anything else, you will need to determine the goals for the ad campaigns you are going to run. The goals you set must be in line with SMART, by doing so you will be able to see and track your ad campaign's performance clearly and logistically.
#2 GEO-Targeting (Local Area Targeting)
If you are targeting audience groups that are within the vicinity of your business operation (whether physical or online) you can use GEO-targeting to create ad copy with keywords that are specific or terms that are only known to the locals around your business area. This will create better engagement and resonate well with your audience groups. Thus improving and increasing the CTR which leads to acquiring quality prospects.
#3 Write an Engaging Copy
Since PPC ads have a character limit, it will be slightly challenging to write an engaging ad copy. Fortunately for you though, we have included these tips to help write an engaging ad copy:
Clearly states your products or services' USP, and how it can help the audience to solve their issues.
Be relevant to your target audience's interests and issues. Lined up with their search queries.
Come up with attention-grabbing and unique headlines.
Add an encouraging call to action.
Include power words such as Instant, Hurry, Limited, Exclusive, etc.
#4 Use Ad Extensions
Searchers or audiences really like reading or viewing any extra information that you can provide them with. And ad extensions are the ideal way to disclose extra information for your products or services.
But you need to know that there are two types of ad extensions:
Manual
A customisable extension type such as site link, location, call, product image, etc.
Automatic
Similar to manual ad extensions but it works automatically.
How to do a PPC Competitor Analysis
Sizing up your competitors is another way to improve your PPC performance and gain the upper hand. In PPC, there are several different points of your competitors that you need to analyse before you gain the upper hand.
#1 Define The Question That You Want to Answer
When analysing a competitor it is easy for you to go off track when looking at all that data. So to avoid going off track, have a specific set of questions that you want to answer, for example:
Are you looking for the keywords that work best?
Which demographic your competitor is targeting?
With a set of questions like in the example above, you won't easily go off track and be distracted by the overwhelming amount of data you are looking at.
#2 Analyse Your Competitor's Unique Value Proposition
Your unique value proposition (UVP) is what separates you from your competitors. So go to their website or store to understand what makes the customers choose them over you, such as
Lower price
Fast delivery
Constant product promos or discounts
By understanding which UVP is appealing to your competitor's customers, you can emulate it and use it as your own, with improvements of course. But of course, emulate the ones that are suitable and sustainable for your business.
#3 Know Your Competitors
No matter the industry, there will always be a key competitor that dominates the industry. So if you don't know yet, then you should do some research on who they are.
If you don't know and have no idea how to start, you can do this:
Go into incognito mode, then search for the top brands in your industry
Search for recent events and business fare, then check the list of participating companies
Reach out to your current and existing customers, and ask them which brands or companies they considered buying from. Then, collect their feedback to discover which brand or company is the top player in your industry
#4 Compare Keyword and Top Traffic Sources
The core data that you need to observe when analysing a competitor; their keywords and traffic sources.
Keywords: Check and observe for the top performing keywords
Traffic sources: Discover their top traffic sources and see if you drawing from the sources as them.
By knowing this, you will obtain a solid foundation to create successful PPC campaigns on Google Ads and gain the upper hand.
#5 Find Keywords Gap and Target Low Search Volume Keywords
You may have found what works well for your competitor, but do you know that you also can leverage the keywords that are underutilised by your competitors? You can leverage these underutilised keywords to your advantage.
Even better if the underutilised keywords have low search volume. And this brings us to the second point, target low search volume keywords. If you are website is still fairly new, you can target keywords with 100 or fewer searches because they have a low cost per click. This will allow you to run a PPC campaign with a low budget but still able to get quality clicks.
6 Tools to Help Your Competitive Analysis
You can't do any competitor analysis without the aid of proper analysis tools. So here are seven tools that can help you with competitive analysis.
A software platform that focuses on your competitor's intelligence and analysis for both SEO and PPC campaigns.
Features:
Instantly lets you view Google Ads budget, total monthly paid clicks, and the number of paid keywords
The Ad History tab allows you to view their search or display ads looked at for the past five months
Pricing:
You will have to subscribe to an annual subscription which starts at $33 per month.
It is a comprehensive SEO tool that provides you with a variety of tools to support technical, on-page, and off-page SEO and PPC advertising.
Features:
Advertising Research
Lets you access and view your competitor's target keywords, ad text, bidding strategy, and ad budget by typing in their domain, sub-domain, or URL.
Display Advertising
Allows you to view display ads your competitors have previously promoted through Google Display Network (GDN).
Pricing:
The subscription fee starts at $99 per month for single-user access.
This tool is a digital marketing software that focuses on SEO and PPC analysis.
Features:
Provide campaign insights for you.
Unlimited research, regardless of your subscription type.
Offer its performance measures for competitors; Keyword Effectiveness Index (KEI), and Ad Effectiveness Index (AEI).
Pricing:
It has a free version that you can use, but of course, the features that you can use will be limited.
The basic subscription is $29.50 per month.
An all-in-one SEO tool with built-in PPC analysis features.
Features:
Can generate a list of top competitors for you.
Automatically parses which keywords you have in common with your competitors and which keywords you are lacking, and how many keywords your competitor is targeting on PPC.
View examples of display ads or text ads that your competitor had run in the past.
Comprehensive tool for analysing your competitors. It comes with built-in features that let you analyse your competitors' PPC as well. It offers a clean and easy-to-navigate interface, so it is great for both new and veteran advertisers.
Features:
Allows you to view your competitors' ad looks, number of clicks, and list of keywords they bid in Google Ads.
Provide insight into competitive data such as traffic cost, traffic volume, and CPC.
Pricing:
SERanking subscription price starts $31 per month.
Provide you with an excellent way to measure your ad, bidding strategy, and overall campaign performance against your competitors.
Features:
Let you view the list of competitors that are targeting the same keywords and ad placements auction as you.
The Impression Share lets you view how many impressions you have received versus how many you are eligible to receive. A higher impression would mean that you are serving more ads than your competitors.
The Overlap Rate feature informs you how many times your ads appear alongside your competitor's ads
Outranking Share shows you how frequently your ad ranked higher than your competitors in an auction.
Pricing:
Google Ads Auction Insights is a free tool offered to everyone with a Google Ads Account.
How Much Does PPC Cost?
The cost will vary depending on the industry you are in and the stage your business is in currently. If you are a startup company, it will cost you more when you want to build awareness and drive conversions for your business.
There is no fixed amount because paid search is intent-based, so the cost will be up to you, as well as the conditions mentioned above.
So, basically, if you know what you are doing then you can set the cost yourself. If you are still experimenting with your ad campaigns' settings then the cost will be different every time.
As mentioned before, there is no fixed cost for PPC advertising but we will share a table showing the average PPC cost up to the year 2020. However, the table we share below is not in any way representative of or definitive of average PPC cost.
| | | | |
| --- | --- | --- | --- |
| Metric | 2019 | 2018 | 2017 |
| Cost per click (CPC) | $1.03 | $0.99 | $1.18 |
| Click through rate (CTR) | 1.8% | 2.1% | 2.5% |
| Cost per mille (CPM) | $18.71 | $20.90 | $29.46 |
| Conversion rate | 5.2% | 3.1% | 2.7% |
| Cost per conversion | $19.64 | $31.79 | $43.52 |
| Invalid click rate | 5.7% | 6.6% | 7.5% |
Table of how PPC has changed from 2017 to 2019
Source taken from: Hochman Consultant